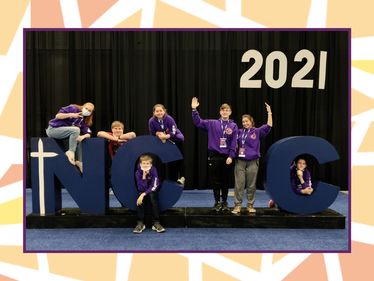 Attending National Catholic Youth Conference (NCYC) and witnessing over 20,000 Catholic high school youth gather in a stadium to worship, sing and pray together made a lasting impression on Jennifer Humes, faith formation leader and youth minister at Saint Gregory Thaumaturgus Parish in North East. NCYC is a national Catholic youth event intended to provide a life-changing encounter with Christ. Teens gather to pray, build community, learn more about their faith and are empowered to live out a Christian life. Jen recognized the need to offer youth these types of experiences which show them what Jesus can do in their lives and shows them the bigger meaning of Church. Inspired by her experience, she was motivated to accompany a group of parish youth and leaders to NCYC in the fall of 2021. Seeking to defray the costs to participants and their families, she applied for and was awarded an Education Grant from the Catholic Foundation to support their trip.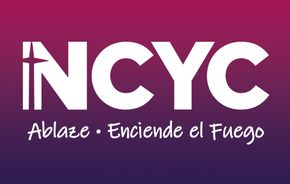 The NCYC theme "Ablaze" sums up what Jen witnessed in the youth that attended the event. She explains, "Upon our return from NCYC, I have witnessed our youth get involved with parish life and serve willingly and eagerly to the needs of our church. Examples of their outreach include teaching faith formation lessons, actively participating in Holy Week Triduum services, and serving at Mass. Additionally they are eagerly spreading the word of their experience to their friends, encouraging them to attend the next NCYC."
The opportunity to apply for a grant to offset the cost of the trip was especially helpful to this group since COVID had negatively impacted fundraising goals. Concerned that the trip could not happen without a funding source, Jen was very excited when she learned of the grant award. The grant funds not only made it easier but also made it possible for some of the Saint Gregory parishioners to attend. Jen believes that sometimes, to make a difference in a young person's life, you just need to give them the opportunity to experience something like NCYC. The Catholic Foundation grant awarded to Saint Gregory Parish helped Jen do that. When providing a report on the impact of this grant, Jen said, "How blessed I was to give the gift of a Christ experience and I felt the young Church I took completely appreciated the efforts and the opportunity. NCYC sparked a fire in these young people that will never be extinguished. I have also learned that the Catholic Foundation is a treasure, and we are so lucky to have you in our diocese."


Be the Spark!
Help us grant more. Join in support of experiences like this for youth and adults. Your donation designated for the Catholic Foundation's Education Endowment increases our capacity to award grants for impactful faith formation experiences and projects today and for future generations.

"NCYC sparked a fire in these young people that will never be extinguished. I have also learned that the Catholic Foundation is a treasure, and we are so lucky to have you in our diocese."
More Stories