Catholic Foundation of Northwest Pennsylvania
provides a permanent and secure funding stream to strengthen and grow the Church's mission and ministries in Northwest Pennsylvania.
Impact Stories
Grant Provides Over 250 Thanksgiving Meals
No one wants to see a family go hungry on Thanksgiving. St. Martin Center, Inc. in Erie seized the opportunity to obtain grant funding to make sure their families in need received more than just a turkey for the holiday centered around sharing a meal.
Read Story
Making Christ Known
In 2018, the Catholic Education Endowment awarded a total of $138,862 in grants. One recipient was the Church of the Beloved Disciple in Grove City.
Read Story
To Honor and Serve
Sister Benita Repasky, late in her religious life, felt she had a calling to minister to the poor in the Shenango Valley. More than 35 years later, the Prince of Peace Center in Farrell that she founded has grown tremendously. In 2018 the Board of Directors at Prince of Peace Center created an endowment in her name.
Read Story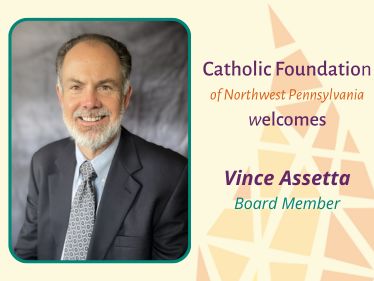 RECENT NEWS & UPDATES
The Catholic Foundation welcomes a new board member.
Receive Catholic Foundation announcements and upcoming events in your inbox!
sign up now
"You are being enriched in every way for all generosity, which through us produces thanksgiving to God."
(2 Corinthians 9:11)