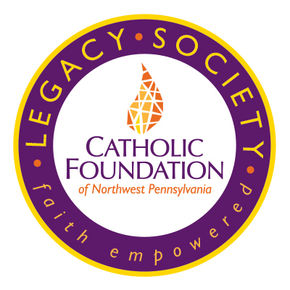 Membership in the Legacy Society is offered to individuals who choose to establish an endowment fund or leave an estate gift that will provide benefits to a Catholic ministry in perpetuity through the Catholic Foundation of Northwest Pennsylvania.
Their giving is a sign of a faithful steward who acknowledges that their personal life, as well as all of creation, is a gift from a loving and gracious God. In response to this gift they are participating in such a way that expresses love, gratitude and respect for God, others, self and for our faith community.

For their vision and generosity, we offer sincere thanks!
Legacy Society Members
Anonymous (3)
Barbara A. Behan†
Ruthanne Beighley
Edith Benson
Rita and William Bevevino
Daniel J. Brabender
Frances Q. Buseck†
Michele Cavalier
Marie† and Stephen Cenedella
Deacon Joseph R. Cicero
Barbara and Robert D. Crowley
The Reverend Monsignor Ernest J. Daley†
Kathleen and James Dammeyer
Dennis G. Deiner
Dale R. DeMarco
Yvonne and John Enders
Elizabeth Flaga†

The Reverend Leo J. Gallina
Robert M. Gallivan
The Reverend Joseph C. Gregorek
Lili Grumblatt
The Reverend Monsignor John B. Hagerty†
William M. Hilbert, Sr.†
Karen Burton-Horstman and Mark Horstman
Lisa and Dean Huya
Joyce Ravnikar-Kulyk and Mark Kulyk†
Mary Ann Lamb
Mary† and Thomas J. Loftus
Lisa and Mark Louis
The Reverend Monsignor Daniel E. Magraw
The Reverend Monsignor Robert Malene
Mary Margaret and James Malue
Sister Catherine Manning, SSJ
Sharon and James E. Martin
Mary Fabrizio McCarthy†
Emma Lee McCloskey
Richard McCormick
Jeannie B. McGinley
The Reverend Monsignor Salvatore Mitchell†

Susan Morgan
Marlene and Homer Mosco
Robert C. Mosier
John L. Mosier
David J. Murphy
Charlotte and Larry Neizmik
Kimberly Young-O'Mara† and James O'Mara†
Pauline Osmer
The Most Reverend Lawrence T. Persico, JCL
John Potosnak
The Reverend Monsignor David A. Rubino
Sheila Sauers
Dawn and Daniel Schaaf
The Reverend Monsignor Henry Schauerman†
Doug Schenberg
Marilyn Sharp
Marie† and Norman H. Stark
Joy† and William J. Steger
The Reverend George E. Strohmeyer
Mary Ann† and James F. Toohey

The Most Reverend Donald W. Trautman, STD, SSL†
Marie and Michael Vereb
Cheryl Vicary
Mary Margaret Weis
Jane and Michael Zavasky
John and Cathy Zawacki
† Deceased members