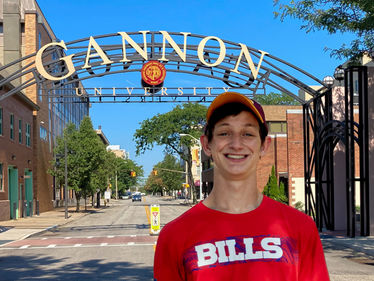 As a freshman at Gannon University, John Brady feels the support of his parish community in a special way this year. His involvement and faithful service over the years at Saint Thomas Parish in Corry was rewarded with a scholarship from the Saint Thomas the Apostle Parish Memorial Scholarship Endowment fund held at the Catholic Foundation. In this way John's parish is helping him fund his college education.
Applicants for this scholarship must have been actively involved in ministry at Saint Thomas throughout high school and submit an essay describing how their experience in ministry has enhanced their desire to live their Catholic faith. "Because of my church I will continue to pursue a relationship with God and become a better version of myself with every prayer I pray," John wrote. He spoke of mission trip experiences and role models at Saint Thomas that impacted his view on life. "Saint Thomas has provided me with many experiences and opportunities to grow in my faith. I am infinitely grateful for every blessing God has given me through the Saint Thomas community. Because of the time and love given to me by members of the faith community, I was able to grow into the loving Christian man that I am today."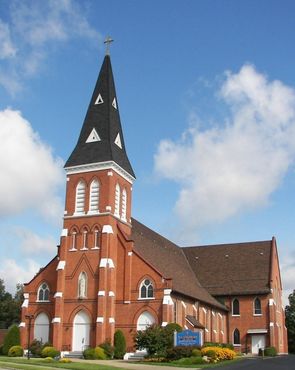 The Saint Thomas the Apostle Parish Memorial Scholarship Endowment was established in 2017 to support post-secondary education scholarships to qualified candidates. This fund honors beloved members of the parish, Dr. C.B. Kibler, Dr. John C. Kibler, Joseph Gentilman, and Joan F. Kolaja, who embraced their education and encouraged others to do so. The scholarship seeks to support and encourage recipients to become life-long servant leaders in the Church. High school students entering post-secondary education are eligible. The student recipient(s) must be registered at Saint Thomas the Apostle Parish, attend weekly Mass and be involved in a liturgical ministry on a regular basis during their high school years. A parish endowment committee selects the award recipient.
Dan Crawford, director of finance at Saint Thomas the Apostle Parish, says, "this scholarship is a reward for John's countless hours spent on behalf of our parish." John attended Saint Thomas Catholic School from kindergarten through 6th grade. In his essay he wrote of the many Catholic values he learned there that are the hallmark of a Catholic education. John credits Catholic education for helping instill in him a strong faith and desire to continue his spiritual growth. Among his cherished memories are the support and guidance provided by Fr. Thomas Brown. John says that Fr. Tom taught him "that the key to a happy Christian life is to love others, and the best way to show that you love them is through acts of selfless service."

If you would like to contribute to the Saint Thomas the Apostle Parish Memorial Scholarship Endowment, to help continue to provide scholarships to worthy students like John, you can donate online or by contacting Lisa Louis at (814) 824-1237 or by email.
"Saint Thomas has provided me with some of the most valuable life lessons anyone could ever teach, and I am forever grateful for their help."
More Stories