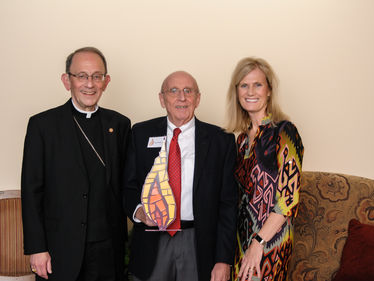 For over 40 years, David Murphy has been an integral part of the Diocese of Erie, where he's handled financial resources and other business affairs across the 13 counties. Shortly after his retirement, David established an endowment to show his confidence in the diocese and the Catholic Foundation. "I wanted to get something going, and I wanted to inspire others to give back," David said.
"Hopefully, in the long run, it will be an important component of the financial picture of the diocese." Recognizing that many of the foundation's endowments are geared toward Catholic education and charities, David decided to take his in another direction. "I know the good that comes from professionalism and efficiency in diocese operations," he said. "I wanted to support the dedicated diocesan staff with funds that help them provide the best service."
A gift to the Catholic Foundation is forever. Not only does it create an immediate impact in support of our Catholic values today, it also ensures that the impact — as well as the donor's Catholic legacy — lives on in perpetuity to benefit people for generations.
"Hopefully, in the long run, this endowment will be an important component of the financial picture of the diocese."
More Stories