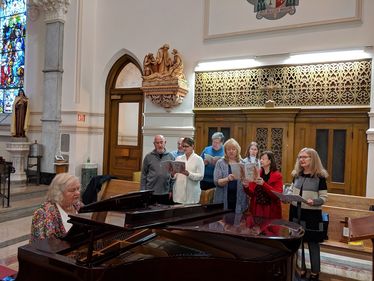 Christine Pawlowski, choir director and organist at Saint Andrew Parish in Erie received a grant from the Michael C. McCloskey Memorial Endowment in 2019 to attend the Church Music Association of America's Sacred Music Colloquium.

The Sacred Music Colloquium is an intensive teaching conference and retreat on sacred music. Christine attended the conference in order to grow as a music minister, learn from experts, explore new techniques, refresh and enhance her skills.
"The colloquium experience was just glorious and abundantly restorative!" Christine says. "I am deeply grateful for the grant which allowed me to take part in the Musica Sacra Colloquium. It has changed my life."
The McCloskey Endowment was established in 2013 for the purpose of supporting music ministry including education opportunities for music ministers. It is the legacy of Jeannie McGinley, who serves in music ministry as the organist at Holy Trinity Parish. A lifelong passion of hers, Jeannie says that she first learned to play the organ in 7th grade, before she could fully reach the pedals. She says that "good music is a part of good liturgy. It makes people want to join in. Music adds so much."
Jeannie established the McCloskey Endowment for music ministry because of how important it is to her and she couldn't be more delighted that her legacy is helping to enhance music ministry in the diocese. She is pleased that her endowment "gives people the opportunity to use their talents to serve the Lord." She says, "people maybe wouldn't have the opportunity otherwise to get music education."
Christine says that being able to attend the colloquium was a rewarding experience that she hopes will help enrich the experience of the Mass.

---
To donate to this endowment, or learn about establishing an endowment to fulfill your Catholic legacy, contact Lisa Louis at 814-824-1237 or llouis@cfnwpa.org
"I am pleased this endowment gives people the opportunity to use their talents to serve the Lord."
More Stories