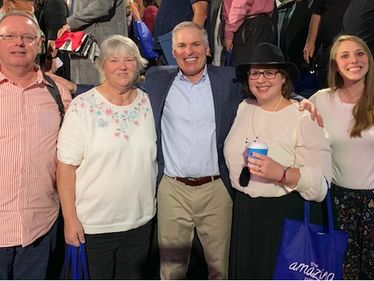 A grant from the Education Endowment at the Catholic Foundation allowed the Diocese of Erie's new faith formation team to attend the Amazing Parish conference in October 2019. This conference is a resource to parishes and pastors in developing their own Parish Leadership Teams which help parishes become dynamic places. Specifically, the conference gave 150 parish-based and 30+ diocesan-based teams the tools they need to transform their parishes—moving from maintenance mode to mission communities that are truly alive!
The Amazing Parish conference is a practical and one-of-a-kind experience for parish leaders. Participants received instruction, small group discussion and experiential opportunities.
The Diocese of Erie's faith formation team plans to promote the Amazing Parish model to parishes throughout the diocese that may be interested in attending the October 2020 conference in Kansas City, MO or the east coast conference in 2021. The faith formation team expects parishes to benefit from these conferences by learning capacity building, comprehensive models of leadership and sustainability measures.
If you would like to support the Education Endowment, at any amount, please contact Lisa Louis at (814) 824-1237 or llouis@cfnwpa.org.

"The conference was very worth our while. I am hoping we can bring some of this back to our parishes and be a support to pastors. It can benefit all of us."
More Stories