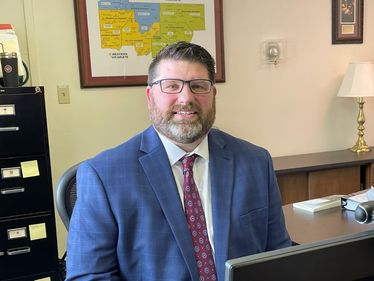 As Superintendent of Catholic Schools in the Diocese of Erie, Jim Gallagher has an important job at a critical time for Catholic education. Faced with limited resources to lead 30 diverse schools that educate over 5,000 students, Gallagher works strategically and with a broad approach.
"We identified a need to update the assessments plan used throughout the diocese at both the elementary and high school levels because there was a lack of consistency in what was used across the schools, and the current assessments did not provide a full picture of a student's achievement data," he explains. The question that drove the desire to update these assessments was "How do we know if our schools are effectively educating our students?" Gallagher wanted data to determine the answer to that question and it became clear that a consistent assessment plan across the diocese was necessary.
Funding from multiple sources was required to realize such a plan and Gallagher looked to the Catholic Foundation for support. Now the Immaculate Heart of Mary Education Endowment that Barbara Behan established in the Foundation in 2008 is helping to fund this important assessment initiative. With deep faith and gratitude to God, Barbara wanted to grow Catholic educational environments of rich faith and academic rigor. Through her endowment Barbara is making a perpetual impact on Catholic education with projects such as this.
After significant committee work led by Gallagher, assessment needs were developed and identified for both the school level and for the Catholic Schools Office. A philosophy of assessment was developed across schools and is being used to drive conversations around the information that is being gathered.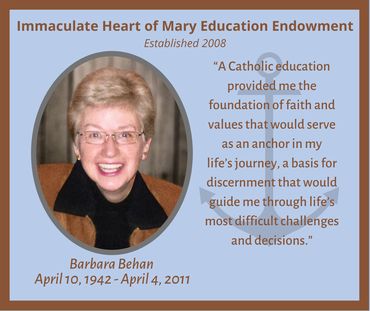 The ACT Aspire assessments that the Immaculate Heart of Mary Education grant helps to purchase are supporting progress in reaching diocesan-wide education goals. Kindergarten to grade 10 assessments are now aligned for the first time.
The new, unified assessment tool uses short, content specific assessments to provide immediate feedback. It will allow teachers to quickly assess student progress and identify gaps that may have occurred during the school year. Teachers can use that information to specifically tailor learning experiences based on the needs identified by the students in their classrooms.
Circumstances of the COVID-19 pandemic made assessments especially important. Disruptions in learning and the summer gap made it difficult to determine how students were doing. The assessments done in the fall, though difficult to administer, were promising and helpful and provided both high level and granular data. The diocese Catholic Schools Office is now able to consult with each school about their assessments and work with each administrator to learn how to work with their data. This process is building a more collaborative culture across all schools.
"The potential for these assessments to improve instruction, build collaboration, and enhance the education received by all Catholic school students in the diocese is very exciting," says Gallagher. "We are grateful for the Immaculate Heart of Mary Education grant which helps to make this possible."
To support the continuity of this initiative, the Foundation's board of directors approved granting of the Immaculate Heart of Mary Education funds to the Catholic Schools Office in 2020, 2021 and 2022.
"The potential for these assessments to improve instruction, build collaboration, and enhance the education received by all Catholic school students in the diocese is very exciting. We are grateful for the Immaculate Heart of Mary Education Grant which helps to make this possible."
More Stories