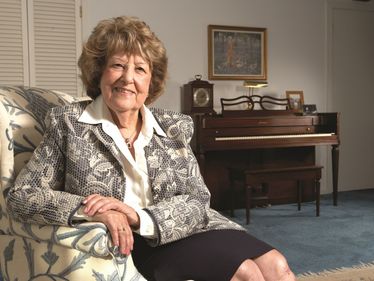 I give because I believe.
A former board member of the Catholic Foundation, Mary Fabrizio McCarthy had a passion for Catholic education and helping young people grow in their faith. During her life, Mary was a pioneer in her field earning a B.S. degree in Pharmacy in 1950. She was the founder and sole proprietor of Frontier Pharmacy in Erie from 1958 through 1991. A lifelong and active member of Saint Patrick Parish in Erie, Mary was passionate about her faith as well as education. After leaving the pharmacy, Mary enjoyed volunteering at her beloved Saint Patrick Parish and Saint Paul's Neighborhood Free Clinic.
Combining her passion for her Catholic faith and education, Mary chose to establish the Mary Fabrizio McCarthy Education Endowment during her lifetime and made provision to add to the endowment after her passing. She designated the endowment to provide tuition assistance for students in Catholic elementary schools in the Diocese of Erie.
The Catholic Foundation was blessed to have Mary serve as a board member. Former board treasurer, Karen Burton-Horstman, knew Mary personally and says that "she believed in the Catholic Foundation's work to build a strong Catholic community for the future."

Mary passed away in 2018, but her legacy and commitment to Catholic education lives on through the endowment she established, which generates funding every year for tuition assistance.
Fr. Nicholas Rouch, former Vicar for Education for the Diocese of Erie, says "Mary's conviction was that Catholic education can enhance a child's life long after graduation. In her foresight, Mary anticipated the ongoing need for tuition help so that more families could enroll their children in a K-8 Catholic school. Her generosity will be making a difference year after year, for so many children."
Mary and her husband, James, also made provision for their parish in their estate plans leaving a gift to establish the James L. and Mary Fabrizio McCarthy Endowment for Saint Patrick Church. Mary and her husband have left a beautiful legacy supporting the causes they cared so deeply about during their lifetime. In this way her faith community will always feel her presence and support.
Mary shared her earthly blessings the same way she lived her life...in faith, with purpose and making impact. Eternal rest grant to her, oh Lord, and may perpetual light shine upon her.
---
"I give because I believe. Faith is like a spark. It lights the way for people to look beyond themselves into the hearts and souls of those who are suffering or in need."
More Stories