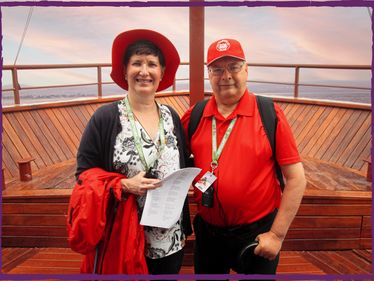 Mary Margaret and Jim Malue like to look through their back yard to see the bell tower of Our Lady of Peace church in Erie. Their parish is part of every day for them in this and many other ways. Daughters Jennifer and Katie attended the parish school, Mary Margaret and Jim led the parent teacher organization during that time, and all four of them have served as lectors at Mass. From the parents of their daughters' friends, to fellow parishioners in the pews, the Malues have found many good friends in their thirty years at OLP. It is home. It is family.
When the Catholic Foundation's annual report arrived in their mail last summer, Mary Margaret took a few minutes to scan through it. A photo of a familiar face on the Legacy Society page, Mary Ann Toohey, caught her eye and gave her pause to consider the information in the report. She remembers thinking that she needed to save it to show her husband, Jim, because for a couple of years they too felt called to give back – to the parish that had given them so much.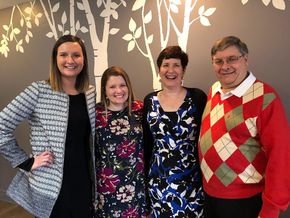 In 2019 when traveling through the Holy Land the Malues met Bob Crowley from Warren, PA, a fellow pilgrim on the trip and a member of the Catholic Foundation board of directors. As their new friendship developed, Bob introduced the Malues to the concept of legacy giving through endowments.
"Before talking to Bob we were thinking about just making a monetary gift directly to OLP," said Jim. "When Bob explained the difference between donating to the parish and setting up an endowment instead, I realized the endowment was what Mary Margaret and I wanted for OLP. The idea that the gift would be in perpetuity and could be added to by others was attractive to us and exactly what we were looking for."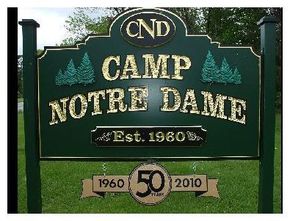 With insight Bob provided and a copy of the annual report in hand, Jim and Mary Margaret reached out to Lisa Louis, executive director of the Catholic Foundation, to set their plan in motion. While reviewing the list of already existing endowments with Lisa, the Malues were happy to see one for Camp Notre Dame named in honor of fellow CND colleague, Paul Speice. So they opted to both establish the Malue Family Endowment for Our Lady of Peace Parish, and to add to the Paul F. Speice Program Endowment for Camp Notre Dame. Mary Margaret explains, "Camp Notre Dame is so meaningful to our entire family. Jim mowed the lawn there as a teen, I was a volunteer camp nurse for many years, the girls were camp counselors, and we all were campers at some point in our lives."
Jim and Mary Margaret Malue were inspired to give by faith, community, and friendship built throughout the years. Seeding a new endowment, and giving to help build another, fulfills their desire to give back. They hope to serve as an example, encouraging others to also give in this way.
"We liked the idea that an endowment can grow; it can be added to by others."
More Stories