The legacy of Msgr. John B. Hagerty changed the face of Catholic education in the Diocese of Erie. As the former Dean of Studies and then Rector of Saint Mark Seminary, he later served as the Headmaster of Elk County Catholic High School, as well as Headmaster of Cathedral Preparatory School. Later parish assignments brought him to Mercer County at Saint Joseph Parish, Sharon, and Notre Dame Parish, Hermitage.
Upon his death in 2013, his final legacy was left as a generous bequest to the Shenango Valley Catholic school system, which endowed a scholarship fund that allows financially disadvantaged students to attend Kennedy Catholic High School. This past year, scholarships were granted to four deserving students.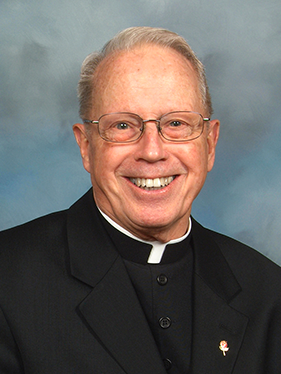 One of the students who received scholarship assistance from the Hagerty Endowment is a current high school senior. Her family has made sacrifices and relied on Catholic organizations for financial support. She says, "Throughout the years, we have been blessed with financial assistance, which was a great help in order to pay the tuition bills. My Catholic education has positively shaped the person that I am today, and I am thankful for the generosity the Catholic [Foundation] has provided me. Without [this] support, I would not be where I am today."
Through his service to the local community and Kennedy Catholic High School, Msgr. Hagerty has left a legacy that continues to make it possible for deserving students to afford a Catholic Education.
If you would like to donate to this endowment, in any amount, please contact Lisa Louis at (814) 824-1237 or llouis@cfnwpa.org
---
"I am thankful for the generosity the Catholic [Foundation] has provided me. Without [this] support, I would not be where I am today."
More Stories