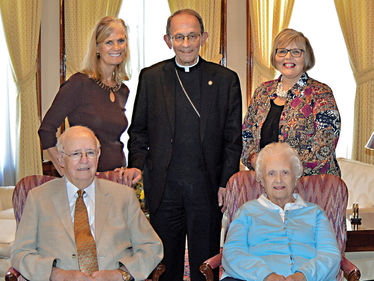 Taking a thoughtful, strategic approach to solving problems is nothing new for Tom Loftus.
A retired industry executive, the Erie native now uses the skills he honed as a business leader to help people in his family's hometown. He and his wife, Chris, are partnering with the Catholic Foundation of Northwestern Pennsylvania to make a lasting difference.
The couple returned to Erie after living for 20 years in Cary, N.C., where Tom Loftus served as senior vice president of Lord Corporation. They soon had an epiphany that focused their intentions.
"In North Carolina, we saw a lot of affluence, growth, people doing very well with their families. And then when we came back home, I saw an article in the newspaper that I'll never forget about the huge percentage of children in Erie living below the poverty line," Tom Loftus recalls. "That started to move us more in the direction of helping with the needs that exist in our community.
Catholic Charities, it seemed to us, does a lot to fill those needs." After a careful process of deliberation, the couple chose to work with the Catholic Foundation to establish the Thomas J. and Mary H. Loftus Charitable Endowment to support Catholic Charities' work throughout the diocese.
"By putting enough money in an endowment, it's a gift that can go on giving for some time. Many of the problems Catholic Charities deals with aren't easily solved and can go from generation to generation," Tom Loftus says, noting that the funding from the endowment will continue along with the needs.
"I would hope that it improves the quality of life for as many people as it can touch. Maybe it gives someone an opportunity they have never had before. I don't expect big miracles, but I'm hoping lots of people are improved through this," he says.
For Tom and his wife, part of the appeal of working with the Catholic Foundation is the confidence that their intentions will be honored. "With the money invested where Catholic principles are going to be applied in perpetuity, then I'm thinking that's what I want," he says.
"By putting enough money in an endowment, it's a gift that can go on giving for some time. I would hope that it improves the quality of life for as many people as it can touch. Maybe it gives someone an opportunity they have never had before."
More Stories