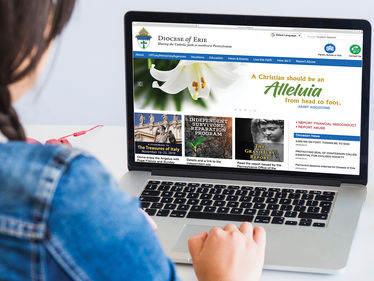 After months of dreaming, planning and collaborating, the Diocese of Erie has unveiled the first major overhaul of its website in more than a decade. Now, www.ErieRCD.org is a vibrant and up-to-date resource designed to be both user-friendly and inspiring.
One key new element is a news hub, www.nwpaCatholic.com, a platform used to provide local, national, international and Vatican news, as well as links to diocesan Facebook and Twitter sites.
The upgrade — partially funded by the Evangelization Endowment of the Catholic Foundation — also allowed the diocese to offer each of the 97 parishes in the 13 counties of northwest Pennsylvania, a new state-of-the-art website, free of charge.

"It is a joy to report on and share information that inspires people to grow in their faith. We have a real sense of building for the future as we explore ways to take advantage of all the new technologies available today."
More Stories