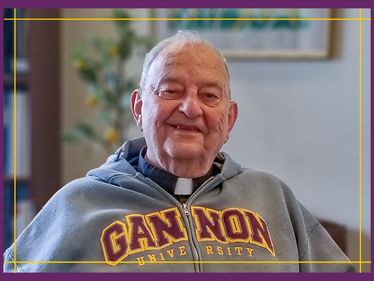 It's wonderful to imagine the number of students' lives Father Joseph Gregorek touched during his long career as a college professor. Now, as he is planning his Catholic legacy, Fr. Joe is ensuring that the breadth of his life's impact will expand in perpetuity through designated endowments in the Catholic Foundation. He recently established the Reverend Joseph C. Gregorek Endowment for Catholic Charities and the Reverend Joseph C. Gregorek Endowment for the Catholic Foundation of Northwest Pennsylvania to fulfill his desire to give back to his Catholic community.
"I've been lucky," says Fr. Joe. "I've had a good job. For twelve years I was dean of a medical school in California before Bishop Trautman called me back to Erie." As a priest, he explained, he was required to major in philosophy for his BA, yet he had a passion for the sciences. Fr. Joe earned his MS in biology from Catholic University and PhD from the Medical College of Virginia. From there he went on to teach anatomy and pathology at the college level. Upon his return to Erie, Fr. Joe was assigned to the Gannon University pre-med committee because Bishop Whalen said a priest with a background in medicine could uniquely bring faith into discussions on ethics issues. It was a placement that bore fruit for decades. In pastoral service, Fr. Joe asked to return to Saint Casimir Parish, where he served his first assignment as a priest. "They taught me how to be a priest, " he said, "and I wanted to go back and serve them." Today he is the only priest in the diocese who hears confessions in Polish.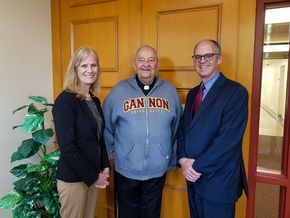 Fr. Joe established his legacy funds in the Foundation with a gift of appreciated stock and planned additional giving to these endowments through his estate. He says he is "glad to help people in need long after I'm gone." Fr. Joe chose endowment purpose statements that defer to the boards of Catholic Charities and the Catholic Foundation respectively for granting each year, saying he is "glad to have the boards decide…because they will know what the needs are."
"It is in thanksgiving that I give these gifts," says Fr. Joe, "to assist works in the diocese in which I was ordained and served for over 56 years now."
We are grateful for the vision and generosity of Fr. Joe who went home to the Lord on May 14, 2023. Eternal rest grant unto him, O Lord, and let perpetual light shine upon him. May his soul and all the souls of the faithful departed, through the mercy of God, rest in peace.
---
Click the button to make a gift to the Reverend Joseph C. Gregorek Endowment for the Catholic Foundation
Click the button to make a gift to the Reverend Joseph C. Gregorek Endowment for Catholic Charities
""It is in thanksgiving that I give these gifts, to assist works in the diocese in which I was ordained and served for over 56 years.""
More Stories