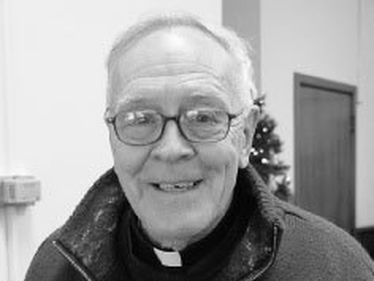 Visiting the grave site of their beloved spiritual director, Msgr. James Peterson, fondly known as "Fr. Pete," a group of former Saint Thomas More Club members reflect on the memories that bind them together.
Mike Murnock and Marty Radock reunited the group a few months after Fr. Pete passed away, and it was here that an idea was born—an idea that will help one of Fr. Pete's most cherished projects flourish for years to come.
With the heart of a true servant, Fr. Pete established a home where men who were suffering with addiction, homelessness or the effects of long-term incarceration could go to find a helping hand and a place to turn their life around. He called it Maria House Project, and its mission was to provide a healing community directed toward life in the Spirit. The rural setting allows a man to be introspective and to think about where he has been, where he is in life and where he is in his relationship with Jesus Christ.
A Strong Foundation
In 1970, Mike Murnock and a group of 13 other Gannon College freshmen joined the Saint Thomas More Club, a service-oriented organization founded by Fr. Pete. The group volunteered for numerous organizations including the Boys Club, St. Joseph Orphanage and Shriners Hospital. In their house on West Seventh Street, they celebrated Mass and organized retreats to enhance the spiritual life of the group. Eventually, this home, called Maria House, was donated to Fr. Pete for his ministry.
Maria House Project was created a while later when a family donated their farm in Spartansburg and it became the Lodge.

After Fr. Pete passed away, former members of the Saint Thomas More Club reunited in his honor, attending Mass together and then gathering at Fr. Pete's grave. "It was really profound," Mike says. Somewhat spontaneously, three-dozen people shared emotional stories about Fr. Pete.

"We ended up hanging out at the cemetery for a while," Mike says. "And that was when I suggested to the group the idea of creating an endowment fund in honor of Fr. Pete. They embraced the idea because an annual distribution from the endowed fund will help the men at Maria House Project. We have raised more than $10,000 so far, and I am very optimistic that others, out of a sense of love and appreciation for how Fr. Pete changed their lives, will come forward."
Serving With Love
Joe Tarquinio, executive director of Maria House Project and close friend of Fr. Pete's, reflects on visiting him shortly before he died. "When I was with Fr. Pete, I marveled at the way two residents, Everett and Sammy, took care of him around the clock. They prayed with him and fed him, taking care of all of his needs. Once served by him, now they were in loving service. Others would come to see him and each and everyone would come out with tears in their eyes. I don't know what happened in there but it was definitely Godly."
When Joe expressed to Fr. Pete his concerns for the financial future of Maria House Project, he responded, "I told you when we first started that I have an agreement with God. As long as we run the ministry, He will take care of us. You need to trust." Fr. Pete reached over and grabbed Joe's hand and said, "Don't worry. I will be with you on that journey!"

Fr. Pete's legacy and presence can be felt at Maria House now more than ever. He found Christ in every person, no matter how destitute, and now thanks to the Saint Thomas More Club "Fr. Pete" Endowment, this man of faith will continue to transform men's lives today and in the years ahead.
"The Saint Thomas More Club embraced the idea of creating this endowment because an annual distribution from the endowment will help the men at Maria House Project."
More Stories