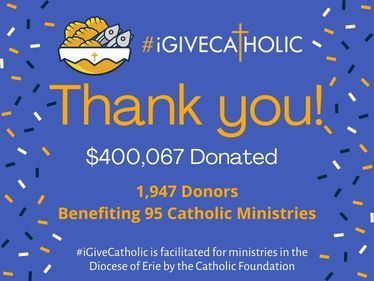 The Catholic community in northwest Pennsylvania continues to unite in the faith-filled day of generosity known globally as #iGiveCatholic. On November 29 Catholics across northwest Pennsylvania were invited to join in and give to the ministries that shape their hearts and souls, and they responded by surpassing 2021's totals. Across the 13-county Diocese of Erie, 1,947 individuals donated $400,067 in support of 95 Catholic organizations including schools, parishes and ministries.
With the theme Give Catholic on Giving Tuesday, #iGiveCatholic is an annual 24-hour online giving event uniting Catholics across the nation to raise as many charitable dollars as possible for Catholic organizations. In the Diocese of Erie, donors hailed from British Columbia, the District of Columbia and twenty-three states outside of Pennsylvania, showing how far-reaching online giving can be.
While many organizations hit their fundraising goal, Fr. Mark Hoffman, pastor of Our Lady of the Lake Parish was especially grateful. "Since this was the first time we did a strong, focused promotion of #iGiveCatholic, I was hoping that we could achieve at least 50 percent of our goal of $12,000. Getting so close ($11,550) to the full amount is absolutely amazing to me! Our people saw the need, and they responded so generously! Now we can move forward to address a serious water-leakage issue in our office basement."

The Catholic Foundation of Northwest Pennsylvania facilitated #iGiveCatholic for the first time in 2019 when a total of $92,843 was raised for 67 Catholic organizations. In 2020, donors more than doubled first year donations with a total of $243,498 in support. Last year saw an increase in giving of almost $100,000 to $340,054. Reacting to this year's results, Lisa Louis, Executive Director of the Catholic Foundation, said, "We are thrilled with the response to the 2022 #iGiveCatholic campaign. The continued increase in not only dollars raised to support these Catholic organizations, but the number of people supporting them is inspiring. It shows us that Catholics will come together to support the causes dear to them, and they really can make a difference when doing so."

To offer incentive for the giving day, participating ministries were eligible to win cash prizes by attaining predetermined goals on the day of the event and during the advanced giving period. A $28,500 cash prize pool was available thanks to event sponsors and a generous anonymous donor dedicated to supporting the Catholic community. In all 43 prizes were awarded to 39 organizations.
---
Thank you to our 2022 #iGiveCatholic northwest Pennsylvania prize sponsors!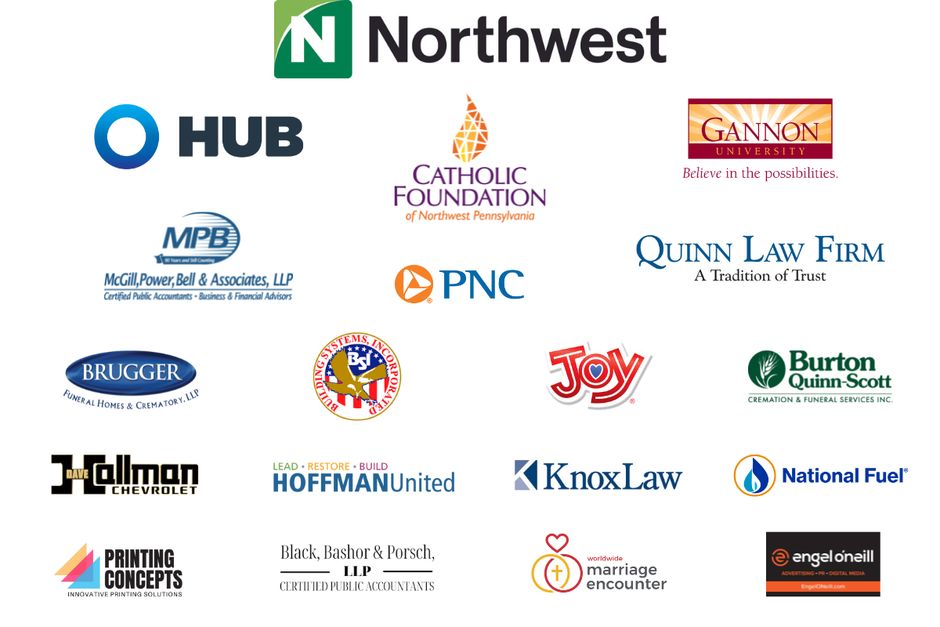 More News & Updates