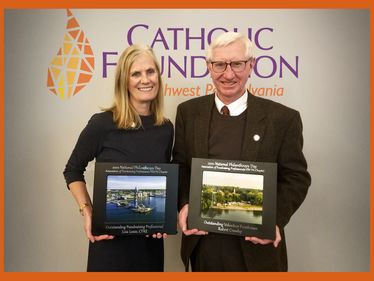 Lisa R. Louis, Executive Director of the Catholic Foundation of Northwest Pennsylvania, and Robert D. (Bob) Crowley each received honors from the Association of Fundraising Professional's Northwest Pennsylvania Chapter (AFP) at their annual National Philanthropy Day event on November 16, 2021.
Nominated by the board of directors of the AFP, Lisa was honored with the 2021 Outstanding Fundraising Professional Award. Representing the board as president of the AFP Chapter board of directors, David Schumacher, said, "As Lisa's colleagues, we are honored to work with a woman who leads by example. Lisa is always gracious and grateful to donors and co-workers while remaining focused on the Foundation's mission and furthering its fundraising goals. She exhibits a high level of professionalism and integrity in all she does."
Without knowing she was being nominated for 2021 National Philanthropy Day award, Lisa nominated Bob Crowley for recognition as an Outstanding Volunteer Fundraiser. "Bob serves the Catholic Foundation board of directors with dedication, integrity and faith," Lisa explained. "We are blessed to have him on our board and delighted to facilitate this well-deserved recognition of his community service," she continued. Bob was honored for his work with the Catholic Foundation while also referencing his advocacy for many other nonprofits over 40 years of volunteer service in Warren.
Many friends of the Catholic Foundation came together to celebrate Lisa and Bob at the recognition event. From both the staff and volunteer leadership perspectives, these awards celebrate the work of the Catholic Foundation and its impact on the regional Catholic community.
National Philanthropy Day is celebrated around the world during the month of November to showcase outstanding donors, volunteers, corporations, foundations and others who are being recognized for their commitment to philanthropy.
Click a photo to expand and scroll through all.

More News & Updates