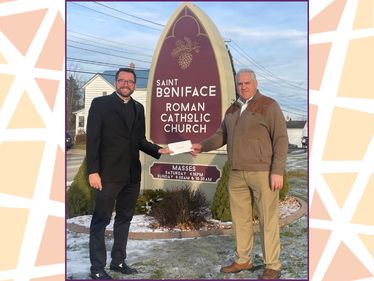 The Catholic Foundation of Northwest Pennsylvania is pleased to announce that twelve Education Grants totaling $77,991 were awarded through our 2022 fall competitive grant program. The Catholic Foundation attracts, professionally manages, and invests gifts to support the current and long-term financial needs of parishes, schools, and ministries. Through the stewardship and growth of these endowment funds, grants are made to support the Catholic ministries serving the community of northwest Pennsylvania. Education Grants awarded this past fall covered a wide range of projects and new initiatives in Catholic schools and parishes.
Grants awarded in this cycle included two which featured collaboration among several parishes. Holy Redeemer Parish in Warren received a $6,000 grant to support three Advent evenings of Eucharistic worship featuring musician/singer John Finch and his team. The three collaborating parishes were Holy Redeemer Parish, Saint Boniface Parish in Kersey, and Saint Joseph Parish in Lucinda. Each hosted one evening of worship. Father Stephen Schreiber wrote in his application, "During this time of diocesan Eucharistic Revival, the parishioners of each parish will be able to enter deeply into the Advent mystery of our Incarnate Lord through music and prayer and fellowship. Eucharistic understanding will be fostered through Eucharistic worship."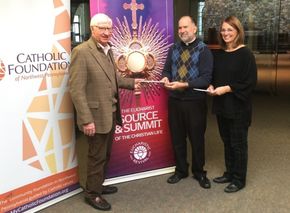 Saint Catherine of Siena Parish in DuBois also sought funds to support a project centered around the ongoing Eucharistic Revival. Saint Catherine Parish was granted funds for their 'Eucharist: Food for the Journey' series. These evenings will be hosted by each of the five parishes in the DuBois area and will include Eucharistic adoration, an invited speaker, a meal, activities for children, and an opportunity for the sacrament of Reconciliation. Building community, bringing families together, and growing an understanding of the importance of Eucharist in our daily lives are goals of this series.
Marjorie Gausman, facilitator of religious education at Saint Leo Magnus Parish in Ridgway, recognized a need in their parish community when their local meals on wheels program was discontinued. She saw this as an opportunity to involve the parish Confirmation students in an impactful service project. Their grant award will help to provide the food and supplies necessary to implement the project. The students will work together to cook, package, and deliver meals two times a month. Marjorie wrote in her application, "This project will encourage our students to give back to parishioners in need and, in turn, hopefully set the stage for a lifelong desire of service."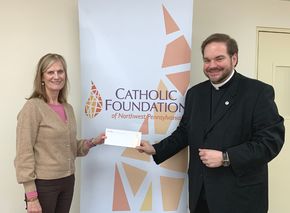 As technology becomes a more vital tool for connecting to the faithful as well as sharing the faith and forming our faith communities, several parishes applied for grant funds to upgrade their computers and network capabilities. These upgrades support faith formation programs as well as many other ministries. Jennifer Wortman, Director of Youth & Adult Faith Formation of the Warren County Catholic Community, wrote, "I have seen over fourteen years of being a DRE that technology has improved our ability to provide formation materials and opportunities to our youth. It has opened new worlds of learning to our adults and on any given day of the week, it has allowed many to gather to share their faith, watch a movie together or delve deeper into Scripture."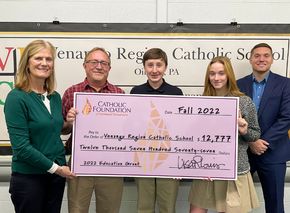 Technology focused grants were also awarded to two schools. Venango Region Catholic School in Oil City received a grant to transform an underutilized school lab into a STEAM activity area. This area will include state-of-the-art laptops, a large-screen television, and a 3D printer creating STEAM experiences in programming, 3D printing, video creation, and more while increasing the use and application of math skills. Gregory Knox, Director of Technology, wrote in his application, "All students deserve a learning opportunity that provides collaborative, hands-on, creative ways to explore their curiosities and expand their horizons while increasing their use of, and application of math skills." Seton Catholic School in Meadville received a grant to add Chromebooks and classroom projectors to an already robust technology program.
"Our mission is to strengthen and grow the Church's mission and ministries in northwest Pennsylvania. These grants carry out the hopes and intentions of faith-filled donors who wanted their generosity to extend beyond their lifetimes," shared Lisa Louis, Executive Director.

---
Click the link below to read the complete list of grantees.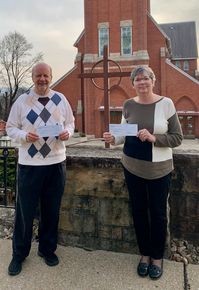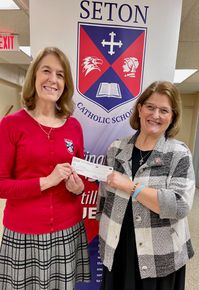 ---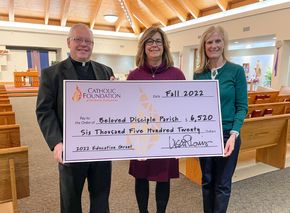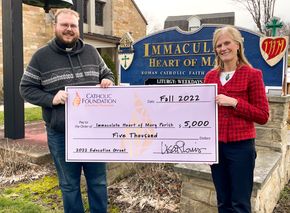 ---
We are pleased to announce the Catholic Foundation's 2023 grant cycles.
Spring Education Grant applications will be accepted February 6, 2023 through March 20, 2023.
Faith Formation Grant applications will be accepted February 20, 2023 through April 3, 2023.
Catholic Social Ministry applications will be accepted June 19, 2023 through July 31, 2023
Fall Education Grant applications will be accepted August 21, 2023 through September 29, 2023.
Be the Spark to light the fire of faith in others!
Catholic Foundation competitive grants are made possible through our four field of interest funds: Education Endowment, Faith Formation Endowment and Catholic Social Ministry Endowment. Donations in any amount designated for these endowments increase our capacity to award grants for impactful programs and projects throughout northwest Pennsylvania lighting the flame of faith today and for future generations.
More News & Updates