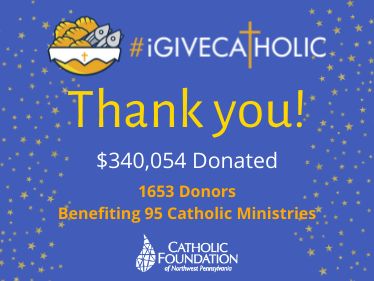 The Catholic community in northwest Pennsylvania united in a faith-filled day of generosity on November 30 through the #iGiveCatholic day of giving. Catholics across northwest Pennsylvania were invited to join in and give to the ministries that shape their hearts and souls and they responded by surpassing 2020's total by nearly $100,000! Responding with gifts large and small, 1653 individuals donated $340,054 in support of 95 Catholic organizations throughout the 13-county Roman Catholic Diocese of Erie.
With the theme Give Catholic on Giving Tuesday, #iGiveCatholic is an annual 24-hour online giving event uniting Catholics across the nation to raise as many charitable dollars as possible for Catholic parishes, schools, and nonprofit ministries.
Holy Cross Parish in Fairview embraced the opportunity to participate in #iGiveCatholic this year. Their goal was to raise money for an electronic sign on busy Route 20 that runs in front of the parish to help with their goal of community outreach and evangelization. Utilizing the opportunity for matching gifts within the giving platform, an anonymous donor offered to match up to $6,000 in donations. Not only did they raise the entire match, but they also surpassed it to raise a total of $28,531. Jo Ann Kamensky, parish secretary says, "I am so proud of our parish of 490 families for taking the #iGC campaign and this project to heart."
The Catholic Foundation of Northwest Pennsylvania facilitated #iGiveCatholic for the first time in 2019 when a total of $92,843 was raised for 67 Catholic organizations. In 2020, donors more than doubled first year donations with a total of $243,498 in support. Reacting to this year's results, Lisa Louis, Executive Director of the Catholic Foundation, said, "We are thrilled with the response to the 2021 #iGiveCatholic campaign. The generosity shown to the Catholic programs and organizations in our region this year is truly inspiring."
To offer incentive for the giving day, participating ministries were eligible to win cash prizes by attaining predetermined goals on the day of the event and during the advanced giving period. A $25,000 cash prize pool was available thanks to event sponsors and a generous anonymous donor dedicated to supporting the Catholic community.

Thank you to our 2021 #iGiveCatholic northwest Pennsylvania prize sponsors!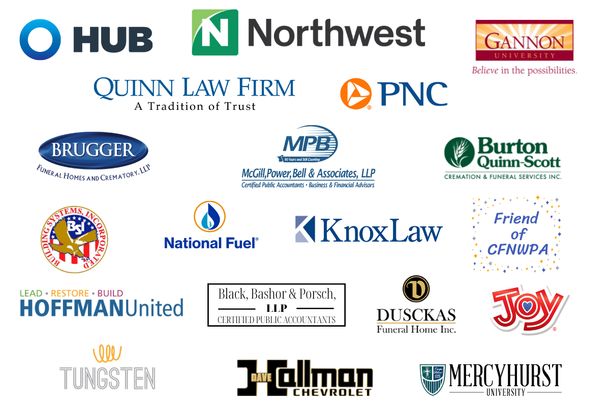 ---
Visit the #iGiveCatholic web page for final leaderboard, prize winners, and the sponsors listing here.
More News & Updates