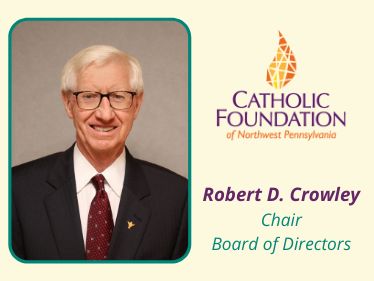 After three years of dedicated service on the board of directors of the Catholic Foundation of Northwest Pennsylvania, Robert D. ("Bob") Crowley of Warren, PA, began leading the board as chair on January 1, 2022. As a board member Bob chaired board committees, championed outreach activities and led by example in many ways. "Bob serves the Catholic Foundation board of directors with dedication, integrity and faith," says Lisa Louis, executive director of the Foundation. "We are blessed to have him leading our board now as chair."
An active member of Saint Joseph Parish in Warren, those who know Bob know he lives his faith. On a 2019 pilgrimage to the Holy Land, Bob offered prayers for our Catholic community in a special way that was featured in a February 2020 Diocese of Erie Faith Magazine article.
Bob developed his acumen for philanthropy over more than 40 years of volunteer fundraising for a dozen non-profits in the Warren area including the Struthers Theatre, Warren General Hospital, Hospice of Warren County, Saint Bonaventure University, Barber National Institute, Warren Public Library and Second Harvest Food Bank.
When asked about his motivation to serve on the Catholic Foundation board, Bob says, "as a lifelong Catholic, I want to leave a personal legacy to my faith and encourage others to do so as well."
In 2021 Bob was honored by the Association of Fundraising Professional's Northwest Pennsylvania Chapter as Outstanding Volunteer Fundraiser at their annual National Philanthropy Day event.
More News & Updates