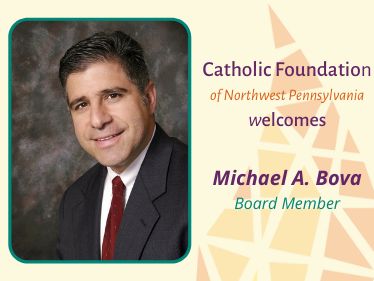 Catholic Foundation Adds Two New Board Members
Ask Mike Bova about fond memories of childhood at Blessed Sacrament School and you'll find that some of them tie to the Catholic Foundation's development coordinator, Kathy Grisier, and her siblings. When Mike first heard about the Catholic Foundation in 2021, he was glad to see the familiar name on the staff listing. That piqued his interest enough about the Foundation to accept our invitation to learn more. Just months later he is now an active board member and participant on the board finance committee.
Mike has many fond memories of his days at Blessed Sacrament School and continues to be in close touch with some friends from that time of his life. He is a graduate of Cathedral Prep and Indiana University of Pennsylvania (IUP). He met his wife, Mary, who is originally from Long Island, at IUP. Mike has fond memories of the impact he had on a group of guys in his fraternity at IUP when he served as the organization's chaplain. After college he moved to Boston for work, where he also earned an MBA at the University of Hartford. The Bova's twin daughters were born in Boston. They moved to Erie when the girls were three and Mike began his career at Erie Insurance. The Bova's enjoyed great years at Our Lady of Peace Parish and School with their young family and were especially fond of Sr. Claudia, school principal at that time. Mary became very involved in the church and school as their daughters were growing up.
Now years later, the Bovas are empty nesters, and Mike is embracing opportunities for community service. He appreciates the diversity of the Foundation board, the way the group shares in discussion, and serves in active leadership. Attracted to the mission of the Foundation Mike sees the opportunity for its growth as others learn about it. "I think I can make a difference increasing awareness of the Foundation," he says, "and will enjoy this kind of service."
---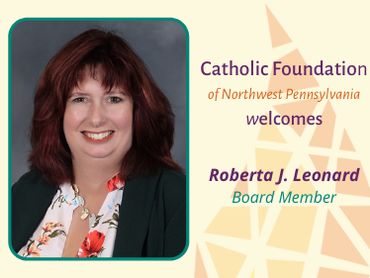 You know there is a rich history of faith in play when someone tells you "my family has been involved in this parish for over 100 years." Such is the case with another of the Catholic Foundation's new board members, Roberta Leonard, who is an active member of Saint Michael Parish in Greenville. Professionally Roberta is the Vice President for College Advancement at Thiel College where she has made a significant impact over the years. In addition to her fund development expertise, Roberta has a finance background having served as the finance director of Mercer County in earlier years. Beyond her professional experience with endowment building, Roberta's affinity for the Catholic Foundation mission attracted her to board service. "The role of faith in my life crystalized following the death of my two sisters," Roberta shares. One sister died following an extended illness and the other suddenly just ten weeks later. "Faith helped our family navigate this journey," she says. Roberta sees her participation in the board of the Catholic Foundation as an opportunity to give back "in the name of both of my sisters." She adds, "The way you keep someone alive is to speak their name." Roberta's sister, Kristin, in particular was very involved at Saint Michael before her death.
Along with her many fond memories as a student at Saint Michael School in her youth, Roberta also speaks of how this community of faith is woven into her adult life. She speaks with pride of her involvement the church and the school. More personally, Roberta cared actively for her mother throughout the cancer journey that led to her death and her father who suffered from dementia.. Fr. David Foradori was pastor of Saint Michael at the time. "He was incredibly sweet and kind," Roberta says, recalling ways the Saint Michael parish community was supportive. "My mother died with great faith, and I have learned that the core of our faith is sustaining in the most difficult times."
More News & Updates