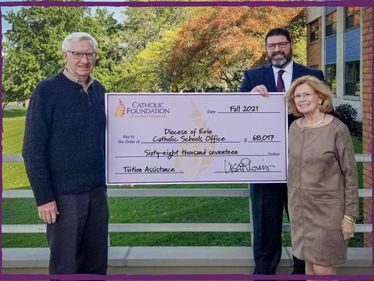 Diocese of Erie administrative leaders are celebrating grant funding they received from the Catholic Foundation in 2021. Thanks to the generosity of donors, two of the Catholic Foundation's largest endowments are meeting important needs in the Diocese of Erie.
Jim Gallagher, Superintendent of Catholic Schools, is grateful to receive a $68,017 grant from the Foundation's Education Endowment to provide tuition assistance to students in financial need in schools throughout the diocese. Grant funds from the Foundation are given to elementary school leaders who distribute tuition support to students and families who have demonstrated a financial need. Throughout the diocese it is a financial challenge for many families to afford the Catholic education they very much want for their children. "Tuition assistance is critically important in helping those families make Catholic education a reality," Jim explains. "It also helps meet the increasing costs of running a school by not shifting the expenses to families." In addition to tuition assistance, other grants are awarded to parishes and Catholic schools from the Education Endowment to support faith formation projects, technology upgrades, and lay ministry formation. In both Catholic schools and parishes, Foundation grant funding helps keep our Catholic community strong and growing in faith.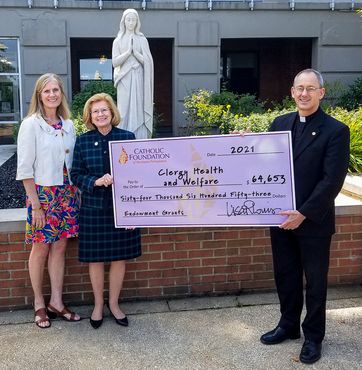 The Clergy Health and Welfare Endowment of the Catholic Foundation awards grants to the Diocese of Erie annually to help meet the needs of both aging and active clergy. In 2021 $64,653 was granted to the Clergy Personnel Office of the Diocese of Erie. As Vicar for Clergy, Fr. Nicholas Rouch is a resource and advocate for clergy in the diocese and uniquely aware of the impact grant funds have on them. "Financial resources help us provide programming that keeps our active clergy strong," explains Fr. Rouch. "It also allows us to help retired clergy that need assistance meeting the financial obligations associated with aging such as insurance co-pays and cost of medication and therapies not covered by insurance." Clergy health and welfare expenses will continue to increase as many of our priests head into retirement years. For this reason, grants from this endowment have a greater impact on clergy health and welfare each year.
Charitable gifts to both of these endowments are welcome from anyone, at any time and in any amount. Your gift helps to increase the Foundation's ability to support these important ministries into the future. Join us in faithful care of our Catholic schools and beloved clergy.
---
Click the button to make a gift to the Education Endowment of the Catholic Foundation
Click the button to make a gift to the Clergy Health & Welfare Endowment of the Catholic Foundation
More News & Updates