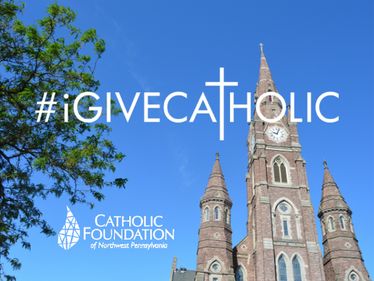 #iGiveCatholic was founded in 2015 as a giving day to bring the Catholic community together to give thanks and give back. This day of Catholic giving happens yearly on #GivingTuesday, a global day of generosity. The Catholic Foundation and the Diocese of Erie participated in the #iGiveCatholic day of giving for the first time on December 3, 2019.
In that same spirit, #iGiveCatholic was launched in March 2020 as a result of the COVID-19 pandemic. This platform will remain activated through June 30 to accept donations for parishes, schools and Catholic ministries due to cancelled Masses and fundraising events across the country. The fiscal year for many parishes, schools and ministries is soon coming to an end and #iGiveCatholic gives you an opportunity to support them now when they need it the most.
To support your favorite parish, school or Catholic ministry, visit the #iGiveCatholic site through the below link and search for the organization you would like to support. You'll see many organizations are fundraising for COVID-19 related expenses, including Erie Catholic School System who seeks donations to help secure a child's opportunity to continue to experience a faith-based education. Seton Catholic School is also using any funds raised through #iGiveCatholic at this time to support financial challenges they are facing due to the pandemic.

Save the date for the #iGiveCatholic Day of Giving later this year on #GivingTuesday, December 1, 2020.
More News & Updates