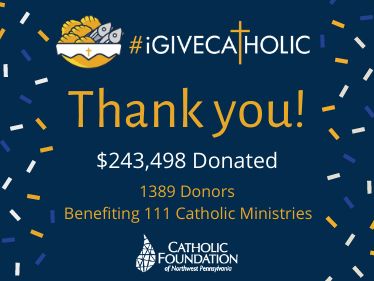 The Catholic community in northwest Pennsylvania united in a faith-filled day of generosity on December 1 through the #iGiveCatholic day of giving. Responding with gifts large and small, 1,389 individuals donated $243,498 in support of 111 Catholic organizations throughout the 13-county Diocese of Erie.
With the theme Give Catholic on Giving Tuesday, #iGiveCatholic is an annual 24-hour online giving event uniting Catholics across the nation to raise as many charitable dollars as possible for Catholic parishes, schools, and nonprofit ministries. Catholics across northwest Pennsylvania were invited to join in and give to the ministries that shape their hearts and souls.
The Catholic Foundation of Northwest Pennsylvania facilitated #iGiveCatholic for the first time in 2019 when 561 donors gave a total of $92,843 to 67 organizations in the Diocese of Erie. Reacting to this year's improved results, Lisa Louis, Executive Director of the Catholic Foundation, said, "The response to #iGiveCatholic in 2020 is uplifting for all of us near the end of a very difficult year. The Catholic spirit and generosity in our region are humbling and inspiring. We are thrilled by the response to the #iGiveCatholic program."
Ministries large and small engage their constituents through the #iGiveCatholic platform to raise funds for their missions. During this year of pandemic online giving is vital to nonprofit organizations that need to reach donors remotely.
Many participating organizations use #iGiveCatholic to fundraise for specific projects. Gannon University in Erie sought support for campus ministry as well as their Chapel Renovation Fund for Mary, Seat of Wisdom Chapel, which has been a long-standing place of worship and gathering for the Gannon University family and community. The Chapel closed for urgent repair and renovation in May 2019. Over $19,000 was raised for the renovation fund during the #iGiveCatholic event, with a total of over $24,000 in gifts for the day. "This was a great promotion and gave Gannon a way to highlight campus ministry," says Barbara Beuscher, Vice President of University Advancement.
Holy Cross Parish in Fairview is known for its Lenten fish fries, which like many other fundraising events of 2020 could not be held because of COVID-19. Through #iGiveCatholic Holy Cross invited donations to help make up for the loss from cancelled event proceeds. Donors stepped up and enabled the parish to exceed its #iGiveCatholic fundraising goal.
To offer incentive for the giving day, participating ministries were eligible to win cash prizes by attaining predetermined goals on the day of the event and during the advanced giving period. An over $20,000 cash prize pool was available thanks to event sponsors and a generous anonymous donor dedicated to supporting the Catholic community.
Notre Dame Parish in Hermitage won one of two $750 western vicariate cash prizes. Pastor, Fr. Richard Allen, was happy to hear about the additional boost in his fundraising effort. Fr. Allen invited gifts to the parish through #iGiveCatholic to help cover the expense of livestreaming weekly Mass.
In Kane, Fr. William O'Brien, pastor of Saint Callistus parish, was hesitant about participating in #iGiveCatholic because of the difficult year it has been. However, since parish offertory was down due to decreased church attendance, the pastoral council encouraged participation. After receiving a letter from Fr. O'Brien inviting them to join in the giving day if they were able, parishioners responded. "I am amazed by how generous people are and how much they love their parish," he says. His enthusiasm for this initiative grew even more when he was notified that Saint Callistus won not one, but two cash prizes, including the $2,000 Grand Prize.
The Catholic Rural Ministry in Oil City participated in the #iGiveCatholic giving day to raise funds for their outreach ministry. Sr. Marian Wehler says, "We promoted #iGiveCatholic but did not expect this kind of response." Added joy came when they were notified of additional cash prizes their ministry won. They earned a $1,000 cash prize for having the ministry with the most unique #iGiveCatholic donors and $750 through the Catholic Foundation's random drawing among eligible ministries. Sister Marian's "I can't believe it!" puts an exclamation point on her experience with #iGiveCatholic that is shared throughout the diocese.
The Catholic Foundation is humbled by the generosity of our Catholic community. Thank you for your support. We look forward to next year!
Prize winners, leaderboards and the sponsor listing can be viewed here.
More News & Updates