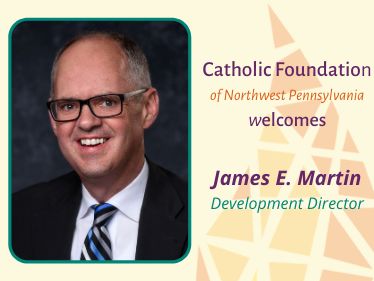 Retired Northwest Bank Erie region president, James E. Martin, is joining the staff of the Catholic Foundation of Northwest Pennsylvania. In his new role as the Foundation's development director, Jim will work with donors who wish to advance the future of Catholic causes through endowments. The Foundation facilitates financial support for Catholic educational, social and pastoral ministries in northwest Pennsylvania.
"We are delighted to welcome Jim to our team," says Lisa Louis, executive director of the Catholic Foundation. "Jim's wealth of experience and strong affinity for our Catholic mission make him uniquely suited for this role. It's really a great match for both of us."

After more than 35 years working at Northwest, the past 16 as its Erie region president, Jim appreciates this opportunity for professional change and personal growth.
"I have been involved with my church my entire life," he says. From grade school at Saint George through high school and college, Jim embraced his Catholic environment. As an adult, he was on many Catholic committees and boards including serving, at the bishop's invitation, on the finance council of the Diocese of Erie. "My faith has always been an integral part of my life," he says. "This new role is an opportunity for me to give back and pay it forward for the future of our Catholic community in a way that is very meaningful to me."
Throughout his professional career at Northwest Jim worked with many area non-profits and served on many boards, among them the Erie Regional Chamber and Growth Partnership and United Way of Erie County, where he also served as board chair.
Although retired from banking, Jim wants to continue being actively involved in developing the Erie region while doing something different.
"I look forward to putting my professional skills to work for something that inspires me personally," he says.

The Catholic Foundation of Northwest Pennsylvania is the only community foundation in northwest Pennsylvania guided by Catholic values and investment principles. It is governed by a board of directors comprised of Catholic lay men and women from throughout the Diocese of Erie. The Catholic Foundation inspires and unites Catholics in supporting their faith community and creating a Catholic legacy, assisting donors to provide for the long-terms needs of the Catholic ministries in their community.
More News & Updates