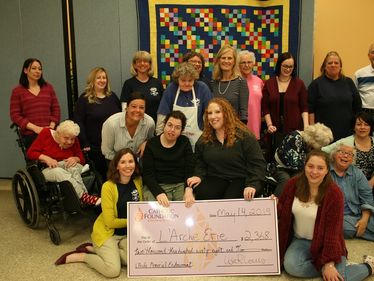 L'Arche is an international organization committed to fostering community among, and recognizing the giftedness of individuals with disabilities. L'Arche Erie was founded in 1972 by Reverend George Strohmeyer to accomplish this mission in the local Erie community.
Fr. Strohmeyer chose the Catholic Foundation of Northwest Pennsylvania when he wanted to make a lasting gift that would impact the ministry he helped to form. In 2016, he generously created the L'Arche Endowment in Memory of Donna Faye Carr and Sr. Barbara Ann Karsznia, OSB.
This permanent endowment provides financial scholarships for L'Arche Erie core members and/or L'Arche Erie direct care home assistants to attend regional and national L'Arche retreats and meetings. These meetings help to develop the leadership potential for core members and assistants and allow them to experience the larger family of L'Arche. The endowment also helps to meet the expenses of core members at the time of their death.
In 2019, $2,368 was granted to L'Arche Erie from the endowment which allowed one assistant to visit L'Arche Mexico, two assistants to attend a L'Arche USA retreat and one assistant to attend a diversity engagement training program.
"This grant allows L'Arche to enrich our members with opportunities to deepen in the core values of L'Arche and grow in their commitment to and understanding of our mission," says Vicki Washek, L'Arche Erie executive director.
If you would like to donate to this endowment, in any amount, please contact Lisa Louis at (814) 824-1237 or llouis@cfnwpa.org.
More News & Updates