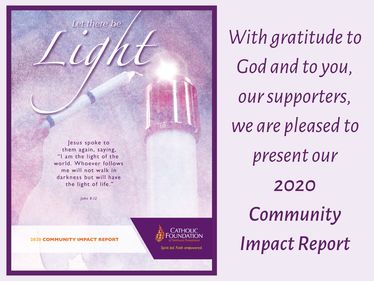 Celebrating the Light of Christ that shone through our Catholic Foundation during a wild year of pandemic, we are happy to share the Foundation's 2020 Community Impact Report. The largest gift received from an individual in our Catholic Foundation's history, over $300,000 awarded in grant funding and a listing of over 90 endowments held in the Foundation are among the highlights. The report demonstrates the growth of the Foundation and its impact on our Catholic community in partnership with donors.
Names and photos of the committed group of Catholic laypersons who govern and actively lead our Catholic Foundation as board of directors is featured. While united in a professional approach to the ministry of philanthropy, this group is diverse in expertise, faith-life involvement and regions in northwest Pennsylvania they call home. Together they faithfully steward over $20 million in assets secured in endowments through the only community foundation in northwest Pennsylvania guided by Catholic values.
Read about grants to Saint Catherine of Siena Parish in DuBois for a faith formation program, a scholarship awarded to a young man from Saint Thomas Parish in Corry who is attending Gannon University, and the inspiration of a faithful couple to "pay it forward" through endowments for of Our Lady of Peace Parish and Camp Notre Dame in Erie. Familiar faces and faith-filled stories fill the pages of this report. Our Catholic Foundation is part of the good news for the future of our Catholic community.
If you would like a copy of our 2020 Community Impact Report and to be added to our mailing list for future correspondence, please contact Lisa Louis at (814) 824-1237 or by email.
More News & Updates