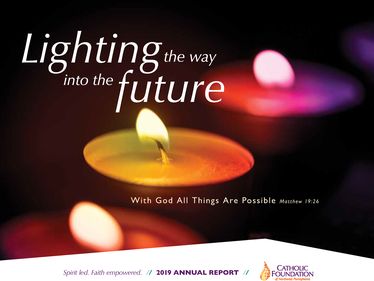 2019 Annual Report
With gratitude to all who have supported the mission of the Catholic Foundation of Northwest Pennsylvania, we are pleased to share this annual report for 2019.
Given the events of 2020, it's good for all of us to be reminded that, as a perpetual steward of charitable assets, the Catholic Foundation is not only prepared for challenging times like these, it is designed for them.
It is an honor to serve all donors whose gifts enable us to strengthen and grow the Church's mission and ministries in northwest Pennsylvania. May blessings come upon all for their vision and generosity.
If you would like a copy of our 2019 Annual Report and to be added to our mailing list for future correspondence, please contact Lisa Louis at (814) 824-1237 or by email.
More News & Updates