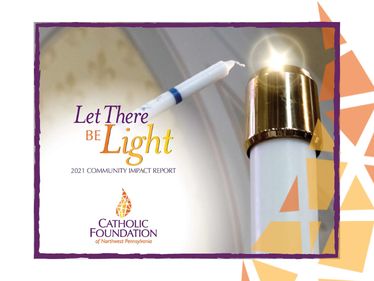 With joy and gratitude we are pleased to share with you the Catholic Foundation's 2021 Community Impact Report. This report demonstrates the growth of the Foundation and its impact on our Catholic community in partnership with donors. Thanks to donors, both past and present, endowments in our Catholic Foundation generated over $300,000 in grants throughout the Diocese of Erie in 2021. Other highlights include a list of over 100 endowments held in the Foundation and the results of our biggest #iGiveCatholic giving day yet.
Together we have a lot to celebrate with our committed group of Catholic laypersons who govern and actively lead our Catholic Foundation as board of directors. While united in a professional approach to the ministry of philanthropy, this group is diverse in expertise, faith-life involvement, and regions in northwest Pennsylvania they call home. Together they faithfully steward over $20 million in assets.
Read about a grant awarded to fund a group of teens attending the National Catholic Youth Conference in Indianapolis, how a son's love for his parents prompted his giving in their memory, and how one woman continues to honor a favorite priest through her donations. Enjoy photos of fellowship shared at our annual Legacy Society gathering. Familiar faces and faith-filled stories fill the pages of this report.
It's more than our religious beliefs that bring us together in our Catholic faith. Our shared ethics and values inspired by the teachings of Jesus Christ define us as Catholics and guide our spiritual journey. These core Catholic ideals also guide our work leading the only community foundation in northwest Pennsylvania that is aligned with Catholic values. We are truly part of the good news for the future of our Catholic community.
If you would like a copy of our 2021 Community Impact Report and to be added to our mailing list for future correspondence, please contact Lisa Louis at (814-824-1237) or by email.
More News & Updates