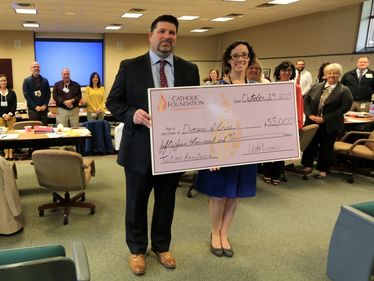 The Catholic Foundation Education Endowment was created as a result of the 2001-2002 diocesan capital campaign. One of its purposes is to fund diocesan-wide Catholic school scholarship and tuition assistance programs.
In 2019, this endowment awarded a $55,000 grant to the Diocese of Erie to fulfill this purpose.
Catholic education is a primary mission of the church, and Catholic schools are one of the most effective means the church has to form the minds and hearts of future generations. It is how we can pass on our faith to future generations.
Approximately 6,500 students (pre-k to 12) are educated each year in 22 elementary, 3 middle and 7 high schools in the diocese. The Diocese of Erie is committed to the proclamation of the Gospel and the spreading of the faith that occurs through our primary and secondary Catholic Schools.
Catholic education wouldn't be a possibility for many families without the gift of tuition assistance, especially for large families who sacrifice to enroll multiple children in Catholic schools. The Catholic Foundation Education Endowment is just one means of helping students receive the gift of a Catholic education.
If you would like to donate to the Education Endowment, in any amount, please contact Lisa Louis at (814) 824-1237 or llouis@cfnwpa.org.
More News & Updates