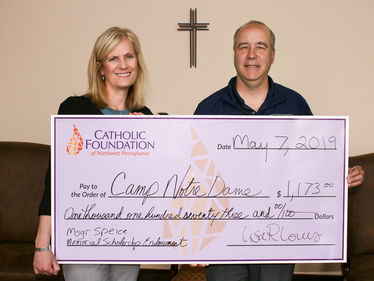 The Catholic Foundation of Northwest Pennsylvania is pleased to give Camp Notre Dame a $1,173 check, this year's distribution from the Msgr. Lawrence T. Speice Memorial Scholarship Endowment Fund.
This fund provides scholarships for deserving youth from Crawford County to attend Camp Notre Dame. Monsignor Speice had a special love for Camp Notre Dame where he served in many capacities, including from 1961-1996 as the Chaplain, and as a member of the Board of Directors. "Fr. Larry was the heart and soul of Camp Notre Dame for over 50 years," says the camp's executive director, John Yonko. "Besides the priesthood, it was his greatest love."
In March of 2000, he was appointed pastor of Saint Anthony of Padua Parish, Cambridge Springs where he remained until his retirement in October 2010. The endowment named for him fully sponsors five children to attend the camp – continuing an outreach that Fr. Larry started decades ago.
John Yonko says, "We're excited to provide scholarships and we hope that people who remember Fr. Larry continue to contribute so that we can provide even more assistance in the future."
More News & Updates