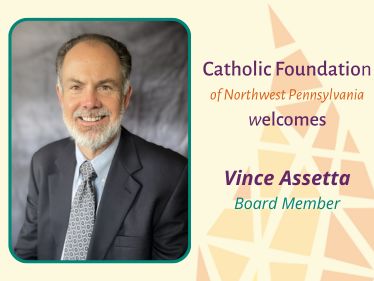 As Vice President and Brewmaster of Straub Brewery in St. Marys, PA, Vince Assetta has met many wonderful people, including Ken Kane, a good friend and business associate. Over the course of the last few years, Ken told Vince about his service on the board of directors of the Catholic Foundation. As Vince learned more about the work of the Foundation and its mission, his interest grew into action. Vince accepted the invitation to join the Catholic Foundation board of directors in 2023.
Vince's professional background in accounting and finance, paired with his enthusiasm and passion for the Catholic Church, make him well-suited for this role. He has a degree in accounting from Saint Vincent College in Latrobe, PA. Vince is a member of Sacred Heart Parish in St. Marys and a new member of the parish Finance Council. He is also an avid consumer of books on scripture and church history, faith-related podcasts, and popular courses such as Bible in a Year and Catechism in a Year.
Having the opportunity to help people use their financial resources to benefit Catholic organizations and causes in northwest Pennsylvania for a long time into the future is appealing to Vince. He is also committed to helping build the Foundation's endowed assets and ensure those assets are invested according to Catholic values and in a manner that obtains the best possible returns. Vince believes joining in the mission of the Catholic Foundation as a board member is an opportunity to participate in the call of Vatican II's New Evangelization. "Vatican II calls the laity to live in the world and build up the Body of Christ. The Catholic Foundation is a very practical way of doing just that," Vince says. "The charitable giving facilitated by the Catholic Foundation enables the Church in northwest Pennsylvania to be built up, and the Gospel message to be presented to the people of the diocese in new and appealing ways."
Outside of his work at Straub Brewery and participation at Sacred Heart Parish, Vince is enjoys CrossFit, walking, running, hiking, and flyfishing for trout. He and his wife Marcie love to cook and travel.
More News & Updates