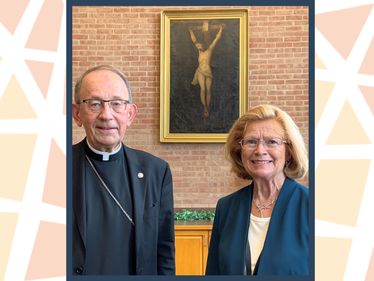 With admiration for the leadership of Bishop Persico during an especially challenging stretch in his episcopacy, Ruthanne Beighley, Catholic Foundation board chair, made the most of an opportunity to do something special for him. After learning about a favorite painting of his that had fallen into disrepair, she catalyzed a remarkable story of faith and generosity. Recently featured in the Diocese of Erie's Faith Magazine, the outcome was worth Ruthanne's two-year wait, and Bishop Persico was doubly blessed.
To extend his thanks to her personally, Bishop Persico invited Ruthanne to see the restored painting hanging, just as he'd hoped, in the library at St. Mark Catholic Center in Erie.
Click here to read the full story on page 12 in the April 2021 Faith magazine.
And To Honor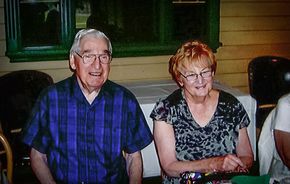 Meeting Bishop Persico at an event inspired Janet Bergkessel to honor him with a gift in support of the endowment he established through the Catholic Foundation.
"When I learned of Bishop Persico's endowment, I knew right away I wanted to honor him by making a gift to it," says Janet Bergkessel. "When my late husband [Ernie Bergkessel] and I had the opportunity to meet him, Bishop Persico was so kind, especially to Ernie — finding him a chair at the event and making sure he was comfortable. Not only do I admire Bishop personally, I appreciate all he is doing for our diocese."

These thoughtful gifts from Janet and Ruthanne are inspired by faith and admiration for the leadership of Bishop Persico. Donations to the Bishop Lawrence T. Persico Endowment will fund Bishop Persico's priority for education of pastoral ministers.

A gift to an endowment is a wonderful way to memorialize or honor a special person in your life. Gifts in any amount to all Foundation endowments are welcome from anyone at any time.
---
More News & Updates